Gutter Repair In Melbourne
Your Local, Reliable Gutter Repairs Specialist
Are you sick and tired of hearing your leaking gutter dripping? Once you have found a problem with your gutters, you face choosing to fix the gutters or to replace the gutters. The decision is not always simple, but as we have stated ignoring a problem gutter is inviting future more expensive issues. Zack's Guttering will inspect your gutters at no cost and then explain your repair options. ​
If a gutter system is not repairable, we will tell you this up front and not waste your time and money on repairs that will not last. Here are some instances where a gutter repair is a viable option.
Leaking gutters can cause serious damage:
Leaking roof or gutter scan because serious structural damage if it's not repaired. Signs that you have gutters leaking melbourne can include stains or mould on your ceiling, wet insulation, and water entry inside your property.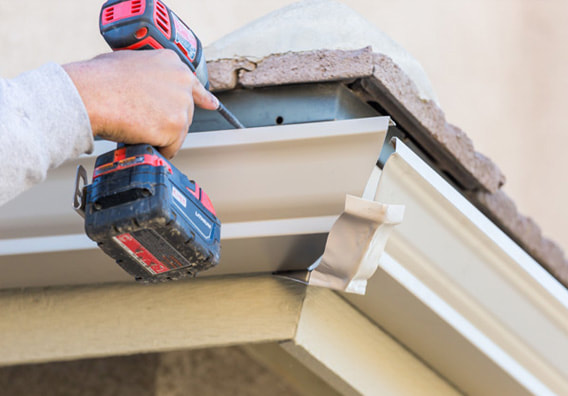 If leaks in your roof or gutters aren't repaired quickly the problem is likely to escalate, causing damage to your walls, fittings, furniture, and house structure.
The extent of damage can be reduced along with repair costs, if we're asked to fix the problems when they occur, instead of leaving it until it's too late avoiding all your guttering from being replaced.
Common causes of roof leaks include:
Storms are responsible for many of the roof and gutter repairs melbourne that we get called out to fix. Apart from the obvious things such as breaks and cracks and tin sheets or roof tiles blowing off, heavy rain and wind can cause water to run in a different way down your roof than it normally would and it's this which causes leaks and floods. If you've been unfortunate enough to suffer damage to your roof or gutters as a result of a storm, then call us right away and we'll send one of our experienced technicians to your home or business at a time that fits in with you.
They'll give you an honest appraisal of the situation and make sure that you understand the work involved. We'll never talk you into having work done that isn't necessary.
Minor repairs and maintenance
If, on inspection, your gutters appear to be pretty sound but are showing signs of wear or tear, then in most instances we recommend repair over gutter replacement, since this is typically the cheapest alternative. We'll assess the level of damage and discuss whether a repair is possible. If your repair is only minor, then most times we can fix it on the same day or within a day. For major repair work or a very large property, then it's more likely to take up to 2 days.
We can repair or replace your downpipes
Sometimes a down pipe isn't just blocked, it's been damaged by storms or rusted through. We can repair your existing downpipes or replace them with new ones. Prices start from $150 for a 1 storey down pipe supplied and fitted in a colour that matches your existing gutters. Give us a call today for a free quote.
Our team of highly trained contractors has the experience to install new guttering on both residential and commercial properties. We recommend Colorbond steel gutter systems which deliver long-lasting performance when properly installed and maintained. Available in 22 colours, there's sure to be one to match or complement your existing décor.
No job is too big or too small, so pick up the phone and give Zack's Guttering a call 0404 004 777 or fill out the free quote form below.