Guttering Replacement In Melbourne
Are Your Gutters Leaking? Are They Sagging?
You Need a Gutter Repair or Gutter Replacement!
When it comes to guttering installation protect your home with an affordable, high quality colorbond guttering that looks great & is guaranteed to last. Our installers are qualified Roof plumbers. Their work comes with a written guarantee, issued by the plumbing Industry Commission and sent out to you. With Roof plumbing there are very strict rules regulations regarding installation, that's why you should let our team replace your gutters.
Gutters are exposed to all kinds of elements. Aside from its primary purpose of diverting running rainwater, it is also subjected to harsh sunlight, strong wind, and debris that gets lodged inside its pipes. Your gutter will be damaged eventually. While not everyone likes replacing parts of the home and the expenses that come with it, all homeowners should not delay gutter repairs as it plays an important role in protecting your home.
One Stop Solution To All Your Gutter Replacement and Repairs Services In Melbourne..
Our gutter replacement systems for your roof and gutters are made from Colorbond Steel and Zincalume Steel. These premier roofing materials are available in a range of profiles to suit any home or design. All of our gutters offer excellent corrosion resistance with a durable, low maintenance finish, and we have the largest range of colours.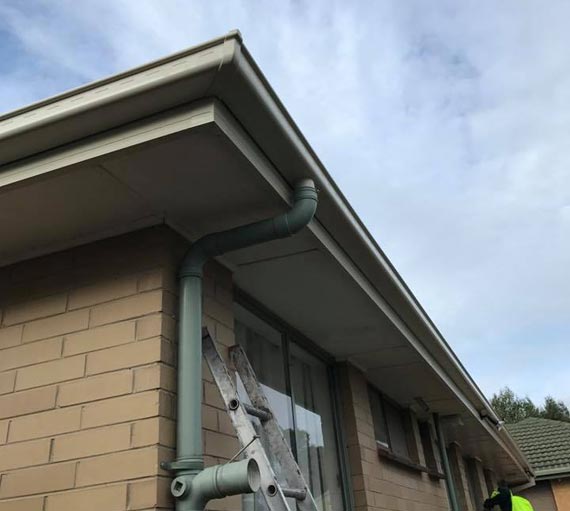 Quad Gutters
The traditional "D" shape of the Quad gutter perfectly compliments our range of roofing products. This slotted gutter is perfect for over flow prevention using 9 metre lengths and we have the largest range of colours on the market.
Ogee Gutters
Ogee gutters finish off your roof with a truly distinctive style and a classic, but decorative look. These Ogee gutters are suitable for metal or tiled roofs.
Half Round Gutters
Half Round gutters offer a simple profile supported by external brackets with a large water carrying capacity. This style is becoming increasingly popular both in residential and commercial applications.
Fascia Gutters
Popular for home improvement projects like patios, pergolas and sheds. The concealed fixing of fascia guttering offers a clean, stylish and seamless finish.
Box Gutters
Box Gutters are a specialist gutter, concealed from view behind a parapet or other elements. They do offer a greater range of design possibilities, however it's important that these are installed correctly with safety overflows that meet today's compliance regulations.
High Quality Gutter & Downpipe Replacement
Improve Drainage With Gutters That Look Great & Last For Years – With Gutter Mesh That Prevents Blockages From Leaves & Debris
​
High Quality, Rust Resistant Gutters Available In All Shapes & Sizes. ​
Customised to fit your home, your gutter replacement will look stunning, ensure drainage from your roof and enhance the value of your home.