Guttering Cranbourne In Melbourne
Zacks Gutter Services is a leading provider of guttering services in Cranbourne. We are experts in gutter replacement, gutter repairs, and gutter cleaning. Zacks also provides other services like the installation and maintenance of gutter ranges and gutter guard protection.
Gutter ranges are different gutter types available for installation in homes in Australia. Some common gutter range types used include quad gutters, half-round gutters, and fascia gutters. Gutter guard protection is part of the gutter system that helps prevent debris like leaves, twigs, and mud from entering the installed gutters and downpipes. This gutter fitting helps to easily clean gutters and downpipes.
If Your Home Being Damaged by Leaking Gutters then Zacks Guttering can help in Cranbourne.
Gutters play a vital role in keeping homes safe from water damage. They help prevent leaks, mould growth, and rust damage. Water damage can cause cracks and paint finishes to peel off your home's walls, which indicate leaking gutters. You might experience a pungent smell due to moss and mould growth on your home's walls. Leaking gutters let water seep onto the timber, a breeding ground for termites to eat away at the timber.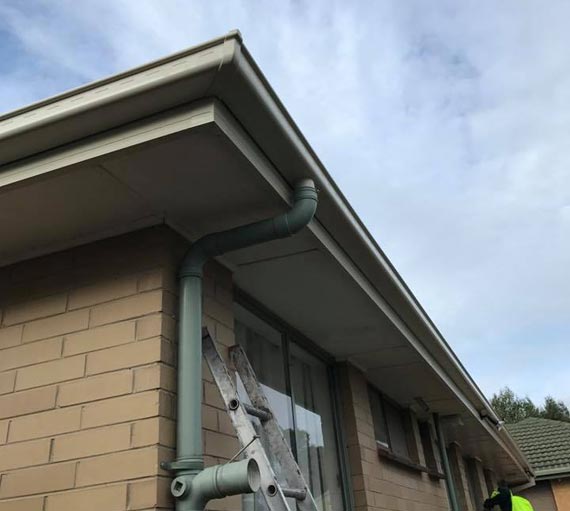 Gutter Services Offered by Zacks Guttering in Cranbourne
You can use Zack's Guttering Services to fix leaking gutters at very competitive prices in Cranbourne using the following services.
Gutter Replacement is the process of removing and replacing existing gutters on a building. Gutter replacement is a specialised task that our technicians are proficient in. They can cut gutter fittings to the appropriate length and install those using brackets and screws. A final test and clean-up make gutter replacements durable and long-lasting.
Gutter repairs start with cleaning the gutters of any debris and materials that obstruct water flow. Some tasks in gutter repairs include resealing leaks and fixing or replacing damaged brackets. In addition to replacing damaged gutter sections
Gutter cleaning is part of preventive gutter maintenance. Our cleaning personnel use different tools like scoops and high-powered vacuum cleaners to remove debris, leaves, twigs, and other objects that hinder rainwater from flowing away from a building. Flushing gutters and downpipes using a pressure washer is an effective way to complete gutter cleaning.
Downpipe installation requires qualified personnel who measure and cut downpipes to the required dimensions. The cut downpipes are fastened with brackets or screws to direct rainwater away from the building structure. A final testing and clean-up ensure downpipes are installed without water leakage.
Contact Zacks Guttering Services for All Gutter Repairs | Gutter Cleaning Jobs in Cranbourne
If you need immediate assistance with all gutter cleaning & gutter repair jobs. Or if you observe leaking gutters it's time to call in the experts. Please let us know your gutter cleaning & gutter replacement requirement by calling us on 0404 004 777 or emailing us at info@zacksguttering.com.au for a quick response from our customer service team.