Gutter Replacement & Repairs in Coburg
Zacks Guttering Services Coburg, offers superior guttering services in Coburg. We are a super specialty cleaning Service Company offering a variety of guttering services like Gutter Repair, Gutter Cleaning, Gutter Guard Protection and Downpipes installation services in Coburg.
Zack's Guttering Services is a reputed guttering services company that meets all statutory licenses & certifications mandated by local and state authorities. Guttering refers to a system of channels installed along the edges of a roof to collect and redirect rainwater from a building's foundation. The system also includes downpipes to connect the collected water to a drainage system or a collection tank.
Gutter Guard Ranges & Gutter Guard Protection
Gutter Guard Ranges & Gutter Guard Protection are important components that cannot be ignored while performing guttering services in Coburg. Gutter guard protection is a system of products designed to prevent debris such as leaves, twigs, and other foreign objects from accumulating in gutters and downpipes. They act as water filters, allowing rainwater to flow while blocking out debris.
Gutter range refers to the variety of gutter types that come in different sizes for installation on residential and commercial buildings. The most commonly used gutter ranges include half round gutters, square gutters, fascia gutters, and box gutters. A range of accessories, including downpipes, brackets, hangers, and gutter guards, are also needed for an effective guttering system.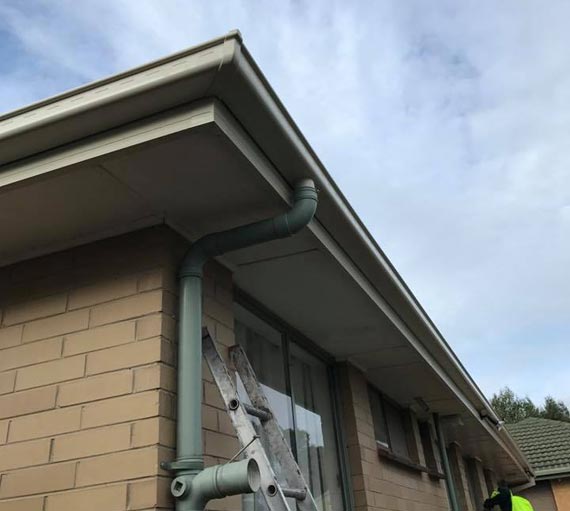 Gutter Cleaning | Gutter Repair Works in Coburg
Gutter cleaning helps protect buildings from water damage, including erosion, foundation damage, and mould growth. Cleaning starts with an initial inspection to determine the condition of gutters and downpipes. Our team will come with the required tools like ladders, safety harnesses, gloves, scoops, brushes, and buckets. Removing debris such as leaves, twigs, dirt, and mud that may have accumulated in the gutter system.
A scoop is a useful tool to remove the debris, while a brush might come in handy to scrub the gutter interiors. A water flushing system, such as a garden hose or a pressure washer, flushes the gutter system clean. A formal inspection to fix any damage to gutter pipes and fixtures helps complete the gutter cleaning and repair process.
Gutter Replacement | Downpipes Installation in Coburg
Gutter replacement and downpipe installation are important gutter services undertaken by Zacks in Coburg. Gutter replacement involves an initial inspection to assess the extent of damage & deterioration. Old gutters are removed by detaching it from the fascia boards or brackets that hold them in place. New gutters, are installed with the necessary hangers, brackets, downpipes, and other accessories. The replaced gutters are tested to see if they are aligned, are free of leaks, and adequately channel water away from the building's foundation.
Downpipes direct rainwater collected from the gutters away from a building's foundation. Downpipe installation requires proper planning to measure the appropriate size and number of downpipes needed. Our trained fitters will cut the downpipes to the required length. They will connect them to the gutters using brackets, clips, and hangers. These fittings and accessories are fixed at regular intervals along the entire length of the downpipe to ensure that it is stable and secure. A final testing and inspection of the gutter system helps fix any water leakage issues or loose fittings.
Choose Zacks Guttering Services for all Guttering Services Including Leaking Gutters in Coburg
It's recommended to have your gutters cleaned at least twice a year, especially before the rainy season, to ensure that they are free from debris and functioning correctly. A properly maintained gutter system can effectively protect your building's foundation from water damage and extend the life of your gutter system. Please let us know your gutter cleaning and gutter replacement requirements by calling us at 0404 004 777 or emailing us at info@zacksguttering.com.au for a quick response from our customer service team.